Top 9 Dos And Don'ts to avoid corona virus in India
As we all know that this deadly and horrible disease Corona Virus (COVID-19) has been declared as an Epidemic by World Health Organization (WHO). This Virus is spreading in almost every country of the World. It has taken many lives throughout the World and number of deaths by this disease is increasing day by day.
Now this dangerous Virus also enters in India. Till now there is no treatment available to cure this disease, some precautions are suggested by WHO to prevent this Virus. To fight with this contagious disease Indian Government suggests some precautionary measures and some strict steps have also been taken by Government to protect its citizens.
In this article we discussed some Dos and Don'ts to avoid corona virus (COVID-19) which every citizen should follow strictly. By following these simple steps you can protect yourself and your loved ones.
In India most of the State Governments declared complete Lockdown or Curfew. This step taken by Government was necessary because this is a contagious disease with no treatment available, so Social Distancing is necessary to avoid spread of this Virus. We appeal everybody to Stay at Your Homes and don't go outside until it is very important. If in any case you will have to go outside or even in your home you should follow the following precautionary measures.
1. Don't Shake Hands With Each Other
Both Indian Government and even The World Health Organization (WHO) suggest people not to shake hands with each other. It is a contagious disease which is spreading from humans to humans, so chances of spreading will be increased by shaking hands with someone infected.
2. Don't Touch The Mask continually
While wearing the mask don't touch it with your hands. The correct way is to hold the mask by its straps while wearing as described in the picture. Also avoid touching the mask continually.
3. Don't Open The Main Gate With Hands
Avoid touching the handle of the main gate with your hands because the handle may be touched by an infected person which may transfer the virus into your body through your hands. You can open the gate with help of your shoulder as described in the picture.
4. Don't Touch the Lift Buttons with Hands
As the picture described you should not touch the lift buttons with your hands. On the other hand you can use your elbow. Better is to use stairs and avoid using lift if you can.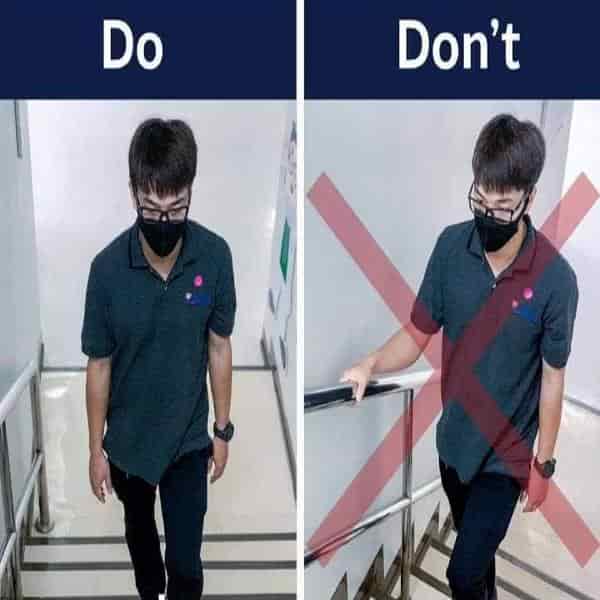 5. Don't Touch Stairs Railing
Don't touch railing with your hands while using stairs. As shown in the picture use stairs without holding stair railing with your hands.
6. Don't Ring Door Bell with Your Hands
It is dangerous to ring the door bell with your hands. Instead of using hands you can use your elbow for ringing the bell.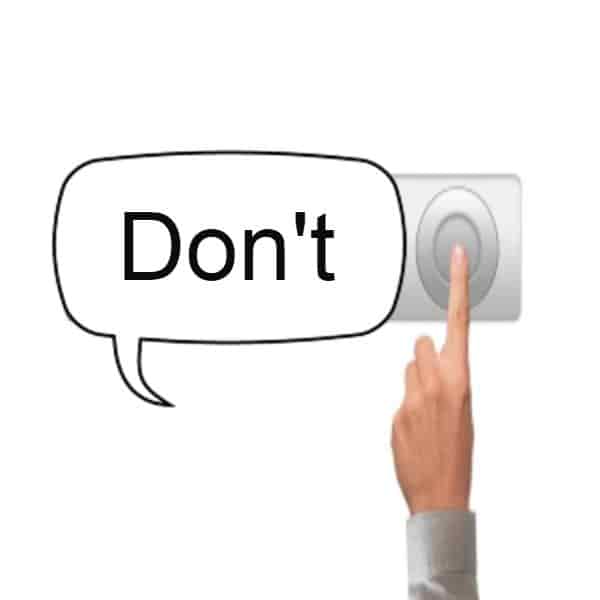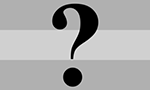 India
Last Updated:

Loading...
7. Don't Use Your Hands to Open the Door
Avoid using your hands to open the door by touching the door handle. The handle may be infected by virus if any infected person has touched it before you. You can use your back to open the door as shown in the picture.
Follow the table manners is a best practice during this corona virus outbreak. Take your food separately in your own plates, so that transmitting of disease from one person to another can be reduced.
9. Don't Touch Escalator Railing
Escalators are common in almost every mall and other major buildings now days. Many people use them every day. So these types of Escalators can become easy containers of corona virus. That's why we should not touch Escalator Railing as a precaution.
Conclusion (Top 9 Dos And Don'ts to avoid corona virus in India)
As we know that there is not any treatment of this virus available till date, so in that case prevention is better than cure is the only way to get rid of this disease. According to latest research the life cycle of this virus is 14 days. So we should keep distance from each other for at least 14 days. The Government also declared Lock-down in the whole country to maintain Social Distancing among the people.We also appeal everybody to stay at homes and avoid crowed areas. Stay Home Stay Safe.
Disclaimer (Top 9 Dos And Don'ts to avoid corona virus in India)
This is our humble effort to aware our visitors and subscribers about effects and precautions of Corona Virus (COVID-19). The source of all the information provided in this article is our own research, Internet and WHO. We are not engaged in direct selling of any services and products please refer to our About Us section for detail information.
Though we tried our best to provide you all the necessary information about this topic but still readers are advised to do their own research. The writers and admin of this website are not responsible for any damage incurred by any remedy or any step suggested in this article. Please refer instruction issued by WHO.